Warrington
Located in the north west of England the town of Warrington lies in the county of Cheshire. The town is situated on the River Mersey. Warrington is a Borough district with a variety of civil parishes and unparished areas within its brief.
It is thought that Warrington was first inhabited by the Romans in the Wilderspool area. Its location as a crossing point for the Mersey made it an attractive location for future settlers in the area as well and it was also inhabited by local Saxons. In medieval times Warrington established a strong reputation in the tool and textile fields in the area. During the English Civil War the town played an important role and was used by both the Royalists and the Roundheads.
During the Industrial Revolution, Warrington underwent a boom in terms of the industries associated with the town and its population. At this point the town made major strides in the production of diverse products. It was, for example, noted for its wire and steel industries and also worked in brewing, tanning, chemical and textile sectors.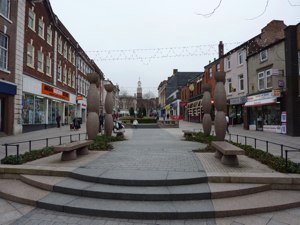 During World War II Warrington was notably the home of the Burtonwood RAF base which was the largest US Air Force base at the time outside of the USA. This was also one of the largest RAF bases at the time.
History lovers that are visiting Warrington should take a look at the Marquis of Granby pub which has a plaque to mark the fact that the Earl of Derby stayed in the pub during the Civil War. The town's parish church is also worth a look - it is said that the dents that can be seen on its walls were made by the shots from Civil War cannons. And, Oliver Cromwell is reputed to have visited or stayed in the 17th century Cromwell's Cottage. The Town Hall is also an interesting building with its golden gates that dates back to the 1700s.
Warrington also has a relatively large shopping centre and many shops in the central area, both high street chains and independents. There is also an indoor market in the town centre. The town also has a Museum and an Art Gallery for visitors to take a look at and various parks and nature reserves in and around the centre. The nature reserves of Paddington Meadows, Rixton Claypits and Woolston Eyes are particularly popular with nature lovers and walkers, for example.
Links:
---